County Clerk Home
Information
Deed Recording
Vehicle Registration
Voters Information
Bulletin Board
Important Dates
Reminders
Records Search
Delinquent Taxes
Search Past Years
KentuckyVotes.org
Email Us
Recording
Pursuant to KRS 382.135, effective August 1, 2008, all Deeds must contain a statement indicating the in-care-of-address to which the property tax bill for the year in which the property is transferred may be sent.
Application for marriage license must be made in person by both parties.
Identification is required (driver's license or photo ID).
Both parties must be at least 18 years of age.
A fee of $35.50 applies.
This license is only valid for thirty (30) days.
Vehicle Registration
Seller is required to sign title as appears on the front of the title.
In case of joint ownership: "or, and/or" requires one signature; "and" requires both signatures.
Both seller and buyer signatures must be notarized.
A correct odometer reading is required for the vehicle.
Current proof of insurance is required. Insurance must be in the driver's name and on vehicle to be titled.
Any and all delinquent taxes must be paid prior to titling vehicle.
License must be current to title.
If a "title only" registration is done, the license plate must be turned back into the clerk's office.
If registering or titling a vehicle from another state, a VTR must be signed and notarized.
A sheriff's inspection is required prior to titling.
Additional information about vehicle registration:
License Plates | Frequently Asked Questions
Voters Information
Who can register to vote?
To register, you must:
be a U.S. Citizen and a Kentucky resident for at least 28 days.
be at least 18 years old by the date of the next general election (if you will be 18 by the November general election, you are eligible to vote in the prior May primary election).
not be a convicted felon or, if convicted of a felony offense, you must have had your civil rights restored. Contact your local parole office to obtain an application for restoration of civil rights.
not have been judged mentally incompetent in a court of law and have voting rights removed.
not claim the right to vote anywhere outside Kentucky.
Where do I register to vote?
You can register at one of the following locations. The completed voter registration card must be mailed or returned at least 28 days prior to the election.
County Clerk's Office
Driver's License Office (if applying for or renewing Driver's License)
K-TAP Office
Food Stamp Office
Medicaid Office
WIC Office and other state-funded offices serving those with disabilities (if you are a client of these offices)
Armed Forces Recruitment Offices (if you are a prospective member of the armed forces)
High Schools (if you are a student or staff member)
Must I choose a party when I register?
Kentucky has closed-party primary elections. You must register as a Democrat or Republican to vote in that party's May Primary Election. If you choose a different party registration other than Democrat or Republican, you cannot vote in their respective Primaries, but may vote in non-partisan City and Judicial Primaries. All eligible voters may vote in the November general election or special election.
May I change my political party affiliation?
You may change your political party affiliation at any time on or before December 31 to remain eligible to vote in the following primary election. You simply need to fill out a new voter registration card and return it to your county clerk by the December 31 deadline.
Am I eligible to vote in an election if I change my residence?
To be eligible to vote, please refer to the appropriate situation below:
You move within the county. Notify the County Clerk of your new address or update your driver's license. The County Clerk will tell you the location of your new voting precinct. If you do not do this before election day, you must go to the voting precinct of your new address to vote and update your voter registration address.
You move outside the county more than 28 days before election day. Update your voter registration address with the new county clerk or renew your driver's license in the new county at least 29 days before the election. If you do not notify the county clerk in either your old county or your new county of residence 29 days prior to an election, you are not eligible in either county.
You move outside the county less than 28 days before the election. You may vote in your previous county of residence for this election, but must register to vote in your new county of residence for future elections.
You temporarily reside outside of Kentucky, but are elible to vote in Kentucky. You may vote by absentee ballot. Please see section regarding absentee ballots.
Is it necessary for me to notify the County Clerk when I change my name?
Yes, it is very important that the County Clerk has the most up-to-date information on you as possible. There are three ways for you to update your voter registration when you change your name:
Renew or update your driver's license
Notify the County Clerk by writing or visiting their office
Fill out a new voter registration card
All voters must produce identification or be known by a precinct officer prior to voting. KRS 117.227 and 31 KAR 4:010 provide the types of identification that can be used by the voter such as: personal acquaintance of precinct officer, driver's license, Social Security card, credit card, or another form of identification containing both picture and signature.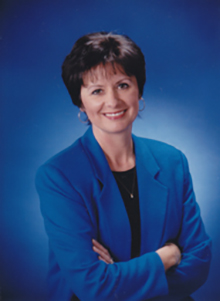 Carol England Chaney
Metcalfe County Clerk